Vegetables

---
Peppers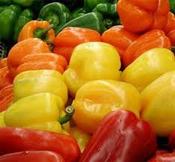 Bell Peppers:
Keystone: 79 days. (green > red) A California Wonder type with large, blocky, pendant fruit (3½ x 4 in.). Mosaic resistant. Heavy foliage reduces susceptibility to sunscald. Thick stems hold up under heavy fruit load.

Golden California Wonder: 75 days. (green > red) Widely adapted standard variety. [Introduced 1928.] A tobacco mosaic-resistant selection of California Wonder pepper, well-known, and preferred by many market growers and gardeners. A smooth, blocky bell, mostly 4-lobed, with thick walls. Fruits average 6 oz., and measure 4" x 4-3/4". Foliage provides good cover for fruits.

Orange Sweet Blaze: 65-70 days. 2012 ALL-AMERICA SELECTIONS WINNER. Vigorous plants bear gorgeous 2 to 3-lobed peppers that turn bright orange quickly. The fruit is 3 to 4-inches long and 1 1/2-inches wide with a very sweet flavor, providing early harvests of delicious peppers just right for cutting into salads or for use in cooked dishes. Plants are vigorous and highly disease resistant.

Red Beauty: The Sweet Bell Pepper Red Beauty, 'Capsicum annuum', is an early, prolific variety bearing very sweet four-lobed peppers with thick walls. The brilliant bright red extra thick-walled bells are juicy and sweet. Red Beauty peppers are widely adapted and easy to grow. They also are tobacco mosaic resistant.The peppers turn from green to red when mature. They are excellent for salads, stuffing, and gourmet dishes.

Mini Bell: 60 days. Oh, so cute! Tiny, red, bell peppers are only about 1-1/2 inches tall and wide. They have thick, red flesh that is very sweet and great for stuffing. 2-feet tall plants produce loads of these little winners and early, too.
---
Sweet & Hot Peppers: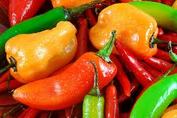 Anahiem: 80 days. Anaheim peppers are a narrow, light to medium green pepper that turns a bright red when mature. It is used in many dishes where a mild chile flavor is called for and can also be stuffed like poblanos. It is also known a Texas, or New Mexico chile when fresh, and a California or New Mexico chile when dried. It roasts wonderfully and is the kind most often found canned, roasted and peeled on the supermarket shelf.

Cubanelle: 70-80 days. Cubanelle is a thin-walled, long, tapered pepper with more flavor and a lower water content than other bell peppers. It's best picked when yellow-green for use in roasting or frying but can also be left to mature when it will turn orange-red.

Habanero: 95-100 days. The famous 10-alarm pepper from the Caribbean. The legendary hottest of all peppers, its name means 'from Havana.' Habanero and its kin long ago migrated from the Caribbean Islands to Central America where they remain extremely popular today. A close relative of the Jamaican Scotch Bonnet, the short, wrinkled, green fruits (1½" long by 1" wide) turn orange. To complement its searing heat, Habanero has a delicious, pungent, smoky quality unlike any other pepper; many people find its flavor and aroma irresistible in sauces and salsas. Days to maturity are from time plants are set in garden. For transplants add 8-10 weeks. Space plants 18-24" apart.

Jalapeno: 75 days. Dark green, medium-hot, thick-walled peppers 3" long, 1" wide, with rounded tips. Matures to dark red. Days to maturity are from time plants are set in garden. For transplants add 8-10 weeks. Space plants 18-24" apart.

Pimento Elite: 75 days. Plant produces extremely heavy yields of thick walled 3 ½" long by 3" wide sweet peppers. Peppers turn from green to red when mature. Similar to Pimento L, but has higher yields. Ideal for canning, salads, and garnishes.

Poblano/Ancho: 65 days. Called Ancho when dried, Poblano when fresh. Loads of mildly pungent, 4" heart-shaped fruits that ripen from dark green to deep red. 2½ ft tall. 100 seeds per packet. Days to maturity are from time plants are set in garden. For transplants add 8-10 weeks.

Serrano: 75 days. Small, finger-shaped, hot peppers picked green or red. Easy to dry. 100 seeds per packet. Days to maturity are from time plants are set in garden. For transplants add 8-10 weeks. Space plants 18-24" apart.

Sweet Banana: 72 days. An AAS Bronze Medal winner for 1941 and still extremely popular. Large, pointed fruits measure 6-7" long and 1½" across. The mild yellow peppers ultimately turn brilliant red. A favorite for pickling.

Garden Salsa: This narrow cayenne type (7" x ½") has just enough heat to tantalize. It has excellent disease resistance and is ready to harvest in 70 days from transplanting out in the garden. Start indoors 8-10 weeks before last frost. Space plants 18-24" apart.

Cayenne: Bright red fruits are excellent for homemade hot sauce and dry well for ristras and delicious, dried hot pepper flakes. The 8-10" long, thin-fleshed fruits taper to a skinny point.

Pepperoncini: If you are a pickled pepper person, this Italian pepper is for you. Expect gratifyingly large crops of 5-6" long thin, slightly wrinkled peppers. At first, the peppers are a pleasing light green, and as the season progresses, their color shifts into bright red. Take your pick: you can harvest the sweet, thin-walled fruits in either the green or red stage, and you can enjoy them raw, pickled or cooked. Harvest about 75 days after transplant.

Hungarian Wax: Yellow hot pepper with 5 1/2" x 1 1/2" smooth, waxy fruits tapering to a point. Easy to stuff and to peel after roasting; thick-fleshed for frying. Its sunset-ripening peppers change from yellow to orange to red, and make attractive pickled peppers. Definitely, but not overly, hot.

---
Miscellaneous Vegetables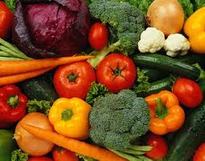 Broccoli:
Green Comet: Broccoli is a hardy vegetable of the cabbage family that is high in vitamins A and D. It develops best during cool seasons of the year. Transplants are recommended to give the best start for spring planting, because transplanting gets the plants established more quickly. Thus they can bear their crop with minimal interference from the extreme heat of early summer. Fall crops may be direct-seeded in the garden if space allows or may be started in flats to replace early crops when their harvest ends.

Cabbage:
Copenhagen Market: "Copenhagen Market Cabbage" is the classic--introduced way back in 1909, it's the standard for every new hybrid, and still the most popular of them all. Just the right size for the home garden, too. When and Where to Plant: Start early varieties indoors 5-7 weeks before last frost. Before planting, harden plants for one week, by putting outdoors during the day. Sow late varieties outdoors in late spring. A late summer planting is recommended in mild winter areas. Plant in a sunny location where cabbage was not grown the previous year. Enrich soil with vegetable food. Firm soil over seed and keep moist..
Care: Keep soil moist, weed free and feed every 4-6 weeks. Protect from insects.
Harvesting: Harvest when head is firm, cutting just below lowest leaves.

Ruby Perfection: Attractive, deep red heads are medium sized, dense and have a uniform high round shape. The 3 pound heads have great flavor and are slow to burst. Very flavorful and crisp, the red color enhances any salad or slaw. Harvest when the head is firm and brightly colored. Plant may form smaller side heads after the main head is harvested.

Cauliflower:
Self Blanch: This cauliflower has self-wrapping leaves which shield the snow-white curds from sun, thus the name Self Blanching Cauliflower. This allows you time for other chores in the garden as there is no need to tie leaves around the heads. Remember cauliflower likes cool weather plant seed early spring or fall for best crops.

Eggplant:
Black Beauty: These large, glossy fruits are a deep purple so intense it looks black. They arise in great numbers on plants 21 to 30 inches high -- you can expect a dozen or so fruits per plant. That's a terrific yield from such a compact, easy-to-grow plant! Be sure to stake the plant early in the season to support its bounty of fruit! Begin seeds indoors 8 to 10 weeks before planning to set out. Eggplant is a warm-weather crop, so wait until after danger of frost before transplanting seedlings into the sunny garden. Set 18 inches apart.

Millionaire Hybrid: One of the most popular Oriental varieties. Long slender fruits grow up to 12 inches long with a 1 1/2 inch diameter and have smooth, tender skin of glossy, dark purplish-black. The creamy flesh is nearly seedless with a very small seed cavity and has delicious flavor that makes it great for stir fries and other dishes. Upright plants grow 24 to 30 inches tall and are very productive.

Flowering Kale:
Nagoya Red: Nagoya Red Kale is a beauty with its deep rose and teal green foliage. This pairs nicely with the Nagoya White in mass plantings. Ornamental Kale, also called borecole, is a great addition to your fall décor. It is a bold, round plant that exhibits great color during the Fall months. Just as with ornamental cabbage, kale isn't very tasty or tender, so chowing down on it is not advised! This fancy leaved plant comes in red and white. It's great color makes it perfect for accenting any bed or container!

---
---
Bulk Vegetables

Onion Sets: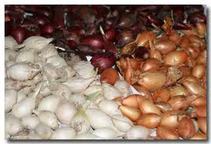 Yellow Ebenezer: 85 days. Most popular onion set you can grow! Gold color on the outside, mild flavor inside—a favorite for cooking. Big bulbs have papery skin, pale yellow flesh. Always crisp and delicious—a fine keeper.

White Ebenezer: 85 days. Great for cooking, very healthy and easy to grow!
Onions are one of the most popular vegetables in the home garden. They are easy to grow and they perform best in well-drained, slightly acidic, fertile soil in full sun. Dry bulbs will be ready for harvest when tops have dried and fallen over naturally, usually in August or September. Lift onions gently with a fork and store in cool, dry conditions.

Red Wethersfield: These Red Onions have an eye-catching deep purple skin covering firm, pink tinged white flesh with a delectable crunch. At its tastiest raw--terrific for topping sandwiches and slicing into salads. Plant bulbs fall through spring in fertile, well drained soil with plenty of sunlight.

Onion Plants:
Walla Walla Onion Bunches: The pride of Washington state, this globe-shaped onion is exceptionally mild and makes jumbo- to colossal-sized bulbs with light brown skin and pretty white flesh. Sweetest of all the long-day varieties, it is the only long-day that comes close to matching the sweetness of Georgia Sweet. Exceptionally mild flavor. Will keep for a month. Delicious for fresh slices on sandwiches. An heirloom developed in the late 1800s that still earns a place on the table. Plant plants 6 inches apart in rows 12 inches apart.

Candy (yellow), Super Star (white), Red Candy Apple (red):
This is a mixed bunch of the three intermediate day onions that we offer—Candy, Red Candy Apple, and Super Star varieties. Great for gardeners with limited space or who want to try some of each without having to purchase an entire bunch. The bunch may not have exactly 20 plants of each variety, but the bundle will have at least 5 dozen plants.
---
Garlic: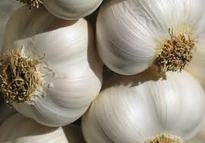 Regular: 120 days. Store-bought garlic just can't compare! Large, plump soft neck bulbs have papery skins and plenty of creamy-white cloves bursting with excellent, spicy-hot flavor. Easy to grow, very productive, adaptable to any climate. Cultivate and store as you would onions.


---
---
Asparagus Roots

Asparagus: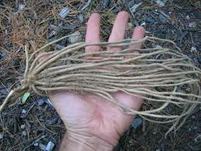 Mary Washington: Noted for uniform size and heavier yield. Sweet, tenders pears have gourmet flavor and an extended cutting season. Resistant to some rusts and blights. Produces heavily for many years. 60 day cutting season. Noted for uniform size and gourmet flavor. Tighter tips and larger spurs.

---
---
Potatoes

Bulk Potatoes:

Russet Burbank: 95-110 days. Burbank Russet potatoes are the most widely grown potato in the U.S. today, and for good reason. Heavy yields, disease resistance, and excellent storage properties make this variety of the original Luther Burbank breeding program the potato that made Idaho famous. Smooth russet skin with crisp white flesh that is perfect for baking, frying, boiling or mashing.

Red Lasoda: Distinctive rosy skin, waxy white flesh. Tasty boiled, baked or fried. Widely adapted and reliable—withstands cold, heat and drought.

Yukon Gold: Yukon gold is a yellow skinned potato with flesh so yellow it looks like it was dipped in butter. Upright, early producer, virus resistant plants.

White Rose: Tubers are "large, long, elliptical, flattened, usually irregular; smooth white skin; numerous medium-deep eyes; white flesh.... High yielding variety of attractive appearance; adapted to irrigated areas; tuber size early. Requires close planting and fertile soil for optimal yields. Good storability. Generally low specific gravity." Primary use: Fresh market, boiling, baking.

All Blue: Late-season 110-135 days. All Blue is quite spectacular with its deep blue skin and flesh. It has an outstanding flavor and moist texture. A showstopper in potato salads or as stuffed potatoes. Excellent baked or boiled, too.

Fingerling Potatoes:

Austrian Crescent: So delicious it sells out fast. Smooth, yellow-tan skin and light yellow flesh. Prolific yields run as long as 10", some weight as much as 7oz. Excellent salad qualities, firm and waxy, or delicious simply boiled or steamed.

Rose Finn Apple: 80-90 days. Slender, moist, with firm yellow flesh. It is great for purees, soups, sauces and gravies. When roasted, eat like finger food.

French Fingerling: 80-100 days. This fingerling is gourmet quality with satin red skin. On the inside, you'll find a yellow flesh with an interior ring of red, when cut across. Produces good quality, medium-sized tubers which are a great addition to any plate.

---
---
Rhubarb

Rhubarb: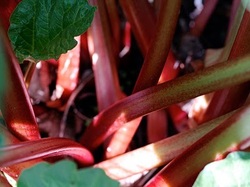 Crimson Cherry. This is reportedly the only variety of consequence in Oregon. It produces brightly colored red stalks with the unique characteristic of being red throughout under normal temperature and moisture conditions of the Pacific Northwest. Best commercial variety in the Northwest.
---