Trees

---
Supplies vary daily... We get new shipments on a need basis. Below is what we usually carry.

Fruit Trees
"Semi Dwarf", "Ultra Dwarf"

Semi Dwarf:
Medium-sized trees which require a growing area of about 15' diameter. Semi-dwarfs can range in height from 10 to 16' and need annual pruning to keep the height down and the shape balanced. Very productive, this size tree will produce hundreds of fruit per season. Occasionally, trees will take a year off and produce little or no fruit, especially after a season of heavy production. Most fruit trees planted today are semi-dwarf, because they produce a large crop from a tree with manageable size for pruning and harvesting.
Ultra Dwarf:
Ultra dwarf fruit trees are very small trees that produce edible fruit. Most ultra dwarf trees are well under 6 feet tall and grow in an 18-by-18-inch pot. In some ways, growing a dwarf fruit tree is similar to growing a bonsai. Frequent weak fertilization and frequent watering give the tree the resources it needs to produce fruit. Like bonsai, a root trim every two or three years will help to limit the overall size of the tree.
Read more:
How to Grow Ultra Dwarf Fruit Trees | Garden Guides
http://www.gardenguides.com/85473-grow-ultra-dwarf-fruit-trees.html#ixzz307suOwFp
Standard:
That huge old apple tree in Grandpa's back yard is a standard, the only choice of size before the smaller hybrids were developed. Standards require more space and are a bigger job to prune and harvest. They can grow to 25 - 30', or taller if left unpruned. If you want a "landmark" tree that the kids can climb in and swing from, get a standard. They take many years to reach full size, so it may be the grandkids who do the swinging. Most standard trees begin bearing in 3 to 5 years.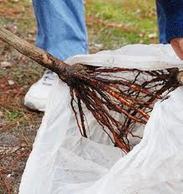 Apples:
Honey Crisp:
"Semi Dwarf & Ultra Dwarf"
(Late September. Round yellow fruit blushed with red. Juicy, crisp flesh with balanced sweet tart flavor. Produces
and keeps well. Needs a pollinator.
Arkansas Black:
Standard (Not Semi Dwarf)
October to November. Popular for its balanced and sweet flavor and for its excellent juice. This medium sized apple has dark red skin that is almost black in color. The flesh is firm, white, and crisp. The Arkansas Black Tree is resistant to cedar apple rust and is a hardy vigorous tree.
Winesap:
Mid-October. Medium dark red speckled with bright red. Firm, crisp yellow flesh with a tangy flavor. Good for cooking
and eating. Also great for cider and sauce. Keeps well.
Red Gravenstein:
July and August. The Red Gravenstein Apple is considered by many to be one of the best all-around apples with a sweet, tart flavor and is especially good for baking and cooking.
Gravenstein:
August to early September. Medium to large yellow fruit with red stripes. Fine for eating and excellent for desserts, pies and sauces.
Northern Spy:
October to early November. It is a large greenish-yellow apple with red striping but will become more red with more ripening. The white flesh is juicy, crisp and mildly sweet with a rich, aromatic sub-acidic flavor.
Red Delicious:
"Ultra Dwarf"
Fruit is medium size, skin color is red with stripes. Apple is juicy, sweet tasting and aromatic. The most popular of all fruit. (Midseason/needs pollinizer).
Fuji:
"Ultra Dwarf"
Resembles Delicious in color. Flesh is very firm, crunchy, juicy and slightly acid. Excellent flavor and outstanding shelf life. Trees are vigorous, hardy and very productive. Bears heavy crops. Keeps very well. Ripens September to October. (Late/self fertile).
Golden Delicious:
"Ultra Dwarf"
An excellent multi-purpose apple that is unsurpassed by any other golden apple. One of the leading commercial varieties that does an outstanding job for the home gardeners too. Large golden fruit that is juicy and of exceptionally fine flavor, aromatic and crisp.
Peaches:
Cresthaven:
Late August. This freestone peach has a red blush over an orange/yellow background, has great flavor and holds its firmness well. An excellent all-purpose peach.
Reliance:
Early July. Most cold hardy. Medium with yellow blushed red and bright yellow flesh. Freestone, self fruitful.
Rio Oso Gem:
Mid August. Very large firm with yellow flesh of excellent flavor. Freestone. Grows smaller than most and self
fruitful.
Elberta:
California's leading peach for all purposes.Large peach, usually elongated.Skin golden yellow, flushed with red where exposed to the sun.Yellow flesh, very rich and sweet.Freestone. Self fertile. Ripens: Late July to early August.
L
oring:
Superior peach for colder areas such as foothills and Midwestern states. Large. Yellow skin with red blush. Flesh yellow, firm, melting, medium texture, flavor quality extremely good.Ornamental qualities with showy spring bloom.Tolerant to adverse spring weather and bacteriosis. Ripens Mid July.
Redhaven:
Medium to large. Red blushed yellow skin. Firm, sweet, yellow flesh. Good for cold climates. It became the world's #1 commercial peach because it was the first peach of the season used for canning. Freestone when fully ripe. Requires 900 hours of chill below 45EF. Ripens Late June.
Cherries:Stella:
"Semi Dwarf & Ultra Dwarf"
Mid Season. Large dark red, nearly black skin. Firm, sweet dark red flesh with good flavor and texture. Tree bears at young age. Self Fertile
Pears:
Asian Pear-Hosui:
July to Sept. Extremely juicy, mild and sweet taste. Has a little of the tang in many apples and European pears
Bartlett:
August. Large waxy yellow fruit with rich flavor and buttery texture. Vigorous and abundant. Self fruitful.
Nectarines:
Independence:
July. Large, oval fruit is almost completely dark red over a yellow background. Firm, yellow, freestone flesh. Rich, tangy-sweet flavor; one of the best. Productive, moderately vigorous tree. Self-fruitful.

Goldmine:
---
Trees


Catalpa: Size: 5 gallon. Large, showy white, trumpet-shaped flowers grace the Catalpa in late spring. Its narrow crown is oval-shaped or uneven, upright with distinctively large, heart-shaped, bright green leaves and long, bean-like pods. Withstands wet, dry, alkaline soils and hot, dry environments, but prefers moist, deep soil. Sun or partial shade. Grows to 40'-60' with a 20'-40' spread. (Zones 4-8)

Purple Catalpa: Young leaves of this Catalpa are deep blackish purple , turning to purple toned green in summer. Large leaves 10-12 inches long. Clusters of white flowers lightly speckled with yellow or purple in late spring. Mature height is 30-40ft. with a spread of 25-30 ft.

Golden Weeping Willow: Size: 5 gallon. The golden weeping willow is a fast-growing, massive tree reaching up to 80 feet in height. Although main branches grow upward, the secondary ones grow straight down, creating the graceful weeping effect for which it is renowned. The trunk is brown with a distinctly corky bark. The pendant stems are yellow green. The narrow, deciduous leaves are pointed and green to yellow-green above, pale below. They turn yellow in the fall.

Pink Snow Showers Weeping Cherry: Masses of single pink flowers cover the graceful, weeping branches in early spring.Lush green foliage that becomes deep golden in the fall. Compared to Subhirtella Double, has darker leaves and no shot hole fungus problems.Mature height to 30 feet with a spread of 25-30 feet.Cold hardy to U.S.D.A. Zone 5.

Snow Fountains Weeping Flowering Cherry: A beautiful weeping cherry. In spring, gracefully cascading branches are covered with single white flowers giving the appearance of a fountain of snow. Lush green summer foliage turns to lovely hues of orange and gold in autumn.Grows to a mature height of 6-12 feet and spread of 6-12 feet. Cold hardy to U.S.D.A. Zone 4.

Althea-Danica: Stunning Picotee flowers in abundance through the summer months. Like a white Carnation dipped in red ink.Dark green foliage.Fast growing to 8-10 feet high, 6-8 feet spread.Plant in full sun. Drought tolerant once established. Adaptable to most well drained soils.Cold hardy to U.S.D.A. Zone 5

Lilac-Common Eastern: Lilac colored, fragrant flowers in large panicles. Blooms late spring. Leaves are bright green. Mature height 8-12 ft. with a spread of 6-8 ft.

Cut-leaf Weeping Birch: (European White Birch) Narrow, conical tree with pendulous branches and white, peeling bark. Reaches up to 15' to 20' tall, with no central leader. Rough, dark cracks on trunks are characteristic of older trees. Leaves are green, toothed, and finely dissected. Turn yellow in fall. Males bear tan colored catkins in early spring.

Flowering Plum: Terrific landscape tree with unusual coppery-purple foliage backing pale pink to white blooms. Bears small red fruit. Useful in all areas of landscape: lawn, patio, and terrace. Deciduous.

Quaking Aspen: This medium-sized tree is valued for it attractive white bark and breathtaking fall color. This tree is also valued for the way it sounds! The trembling noise the leaves make with the slightest amount of wind can virtually transport the listener to their favorite mountain retreat.

Red Maple (Red Sunset): Considered one of the best for early fall color! Large deciduous tree has pyramidal form when young becoming rounded with age. Glossy green leaves turn brilliant orange-scarlet, extremely showy.

Norway Maple: This favorite street and park tree is well adapted to the extremes of urban conditions, including drought and pollution. The rounded crown is quite dense, with lustrous dark green foliage. It is best to wrap the trunk in winter, especially when the tree is young. Height 50-60', Spread 50-60', Shape Rounded, Foliage Dark green, Fall Foliage Yellow, Exposure Full Sun, Zone 4-7

Sugar Maple (Fall Fiesta): A rapid grower, easy to transplant and also resistant to sun scald and frost cracks. Outstanding fall color, shows far more oranges and reds than other sugar maples. Prefers a moist yet well-drained soil with a slight acidity for optimum growth. Height 50-75', Spread 50', Shape Upright, rounded Foliage.

Redbud (Hearts of Gold): New leaves emerge red then turn to gold. Where leaves are shaded by others they will turn to green. 'Hearts of Gold' will brighten the grayest day and provide a riot of color in early spring as they flower even before foliage emerges. In summer, the gold foliage is burn-resistant even in full sun. A U.S. native, this gold redbud is as vigorous as green varieties and will grow to 10' in the first 5 years.

European Beech (Tricolor): One of the most beautiful beech cultivars, whose purple leaves feature an irregular rose and pinkish white border. Tricolor will benefit from some shade as the pink and white border can become scorched in hot, dry weather.

Magnolia (Leonard Messel): This beautiful hybrid magnolia originated as a chance cross between Magnolia kobus and Magnolia stellata 'Rosea' in Sussex, England. The fragrant 12-15 petaled flowers are 4-6" across and fuchsia-pink to purple in color. This tree was named a 1998 Cary Award Winner.



---