Tomatoes

---

---
---
Tomatoes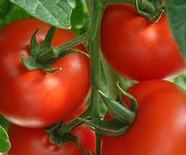 Medium to Large Varieties:
Ace: 75 days. Fruit size 8 to 12 oz. Large, deep red fruit on determinate vines. Very fine flavor.
Beefmaster: 80 days. Strong vines. Large quantities of solid meaty fruit up to 2lb. in size.
Mountain Magic: 70-80 days. Magic Mountain delivers generous yields of super-sweet, juicy tomatoes.
Patio: 70 days: Plant produces large yields of 2" round red tomatoes. Excellent for small gardens or containers. Great for school projects. Kids love them. Disease Resistant
Celebrity: 70 days. Highly productive under any growing condition. Flavorful, disease resistant.
Champion: 65 days. This big and meaty fruit grows on compact (24 in, 60 cm) plants that flower extra early. It resists Gray Leaf Spot and Alternaria well. This slicer produces 9 to 12 oz fruits.
Early Girl: 57 days. Yields a crop of 4-6 oz. fruits all summer.
Oregon Spring: 60 days. Meaty fruits, 3-5 oz. Nearly seedless and perfect for ketchup and sauces.
Lemon Boy: 72 days. Lemon color inside and out. 3 1/2" diameter, 7 oz. Excellent flavor and a heavy producer.
Roma: 78 days. Great for cooking, canning and paste. Pear shaped fruit.
Charger: 72-76 days. This tomato plant produces a large number of heavy fruits that are terrific for slicing. With its compact size, it's a plant that lends itself to container growing.
San Marzano: 65-70 days. Long, blocky, 5 to 8-oz. (142 to 227-g) fruits are easy to seed, leaving plenty of meat for a first-class paste or sauce.

Small Varieties:
Black Cherry: 65 days. Pick loads of these perfectly round, dark fruits from just one plant. The rich, sweet, dynamic flavor makes it taste like an heirloom, but it's a hybrid.
Tumbling Tom: 70 days. This magnificent plant cascades 20" or more. Ideal for hanging baskets and containers. Juicy, 1-2" fruit, perfect size for snacking and salads. True ornamental with sweet flavor.
Large Red Cherry: 72 days. Excellent salad tomato. 1-2" diameter.
Red Grape: 78 days. Sweet wonderful flavor. Glossy 1 oz. fruits grow on grape like clusters.
Sun Gold: 57 days. Bite sized golden fruit with juicy sweet flesh. Early and a heavy producer.
Sweet Million: 65-75 days. Bountiful clusters of very sweet fruits are perfect for snacking or dressing up salads
Yellow Pear: 78 days. Vigorous vines produce high yields of 2" yellow pear shaped fruit.

---
---
Heirloom Tomatoes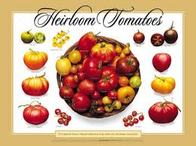 Medium to large:
Black Krim: 69 days. Dark, deep red large 5-7 oz fruit. Not the prettiest but very sweet and tasty.
Brandywine Red: 75-80 days. Brandywine Red is one of the most popular and best-tasting heirloom tomatoes. The very vigorous plants bear large-lobed, beefsteak-shaped fruit that are perfect for slicing. The thin-skinned, pinkish-red tomatoes are flavorful but not acidic.
Cherokee Purple: 80-90 days. Reliable producer of 8-12 oz. fruit. Tolerant to mild drought as well as common diseases.
Mr. Stripey: 80 days. Red and yellow striped heirloom. 9 oz. to 1 lb. Mild flavor and low acid.


---
---