Roses

---

---
Bareroot Fruit Trees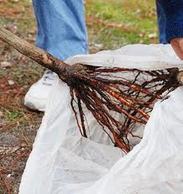 Apples:
Fuji: Mid September, Medium sized, reddish green skin with very white flesh and superb flavor. Firm crunchy and juicy. Needs a pollinator.
Gala: August to early September. Golden skin with reddish-orange blushes. Medium round, firm,
crisp, juicy flesh with a sweet flavor. Good fresh or for cooking. Needs a pollinator.
Golden Delicious: September to October. Large golden apple, good for eating and cooking. Self
fruitful and serves as a pollinator for most apples.
Granny Smith: August to October. Bright green waxy, crisp white flesh with tart flavor. Keeps well, good for cooking. Needs a pollinator (Red or Golden delicious, Fuji).
Honey Crisp: Late September. Round yellow fruit blushed with red. Juicy, crisp flesh with balanced sweet tart flavor. Produces
and keeps well. Needs a pollinator.
Red Delicious: September to October. The classic apple. Large with waxy skin and pure white flesh. Great for eating. Bears
better when pollinated with Golden Delicious.
Winesap: Mid-October. Medium dark red speckled with bright red. Firm, crisp yellow flesh with a tangy flavor. Good for cooking
and eating. Also great for cider and sauce. Keeps well.
Apricots:
Tilton: Late June. Highly colored, heart shaped large fruit with light orange skin. Firm, sweet and juicy flesh. Good for drying,
canning and eating. Freestone. Self fruitful.
Peaches:
Elberta: Early August. Medium large yellow blushed red with sweet juicy yellow flesh. Freestone, self fruitful.
Reliance: Early July. Most cold hardy. Medium with yellow blushed red and bright yellow flesh. Freestone, self fruitful.
Rio Oso Gem: Mid August. Very large firm with yellow flesh of excellent flavor. Freestone. Grows smaller than most and self
fruitful.
Pears:
Asian Pear-Shinko: Mid August to Mid September. Brown-green medium sized with rich sweet flavor and fine texture. Heavy
producer.
Bartlett: August. Large waxy yellow fruit with rich flavor and buttery texture. Vigorous and abundant. Self fruitful.
Plum/Prunes:
Stanley: Mid August. Large purplish black with greenish yellow flesh. Very sweet and juicy with a fine texture. Good for canning.
Highly productive. Self fruitful.


---
---