Berries & Grapes

---
Berries

Berries and Grapes are here!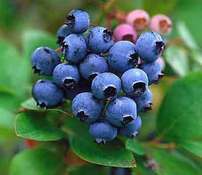 Blueberries:
Blue Crop:
MATURE SIZE: 4' x 6'
USDA HARDINESS: Zone 4 - 7

GROWS BEST IN: Full sun.

Introduced in 1952. Highbush; midseason. Standards of excellence. Bluecrop is a leading commercial variety. Medium to large, open clusters of large, firm, crack resistant, light blue fruit. High quality fruit with good subacid flavor. Bluecrop is good for fresh eating, preserves, baking and freezing. Vigorous, upright growth, will reach 4 - 6 feet at maturity. Slender light red canes. Tends to overbear unless properly pruned. Bluecrop will grow well in most areas. Zones 4-7.
Chandler:

MATURE SIZE: 5' x 6'
USDA HARDINESS: Zone 4 - 7
GROWS BEST IN: Full sun.
With fruit the size of cherries and surpassingly delicious flavor, Chandler is clearly the world's largest blueberry. Another great feature that will provide you a bounty of fresh picked fruit for over six weeks is Chandler's long ripening season! The bush is vigorous with large, dark green foliage and a slightly spreading habit to 5-6 feet. Zone 4-7.
Jersey:
MATURE SIZE: 5' x 5'
USDA HARDINESS: Zone 4 - 8
GROWS BEST IN: Full sun to part shade.
Jersey blueberry bush is an old-time favorite blueberry variety that still graces many mature gardens across the United States. Jersey blueberry is a favorite for home gardeners wanting an easy to grow bush that produces reliably heavy late season crops year after year. This bush tolerates a wide range of soil types, and the small to medium sized, sweet tasting fruit is a favorite for baking.
---
---
Raspberries: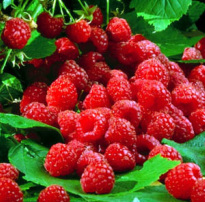 Caroline:
Caroline raspberries are an ever-bearing variety producing tasty, medium-sized, firm red berries from mid-summer into fall. They are disease-resistant, highly productive and easy-to-grow in zones 4 through 8. The plants will bear fruit the first year. A summer crop begins to ripen in late June. The fall crop is highly productive and ripens from August until frost.
---
---
Blackberries: Thornless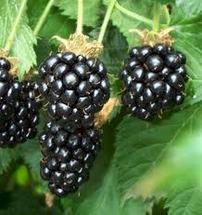 Triple Crown:
Vigorous plants consistently produce plentiful yields of large, tasty fruit. Berries are nearly as large as Apache. Wonderfully complex, sweet flavor without the acidic tang of some varieties. Dense foliage cover reduces problems with sun scald. Ripens late July on thornless, semi-erect 12- to 15-ft. canes.

---
---
Strawberries: Everbearing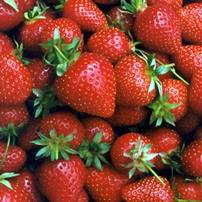 Fort Laramie:
Super-sturdy strain thrives in all parts of the country; withstands the worst winters without mulch. Produces a fair amount of runners and huge crops of bright red berries bursting with juice. Honey-sweet flavor is excellent fresh and for processing. Self-pollinating. Zones 3-7. Everbearing. Firm, sweet flesh. Exceptionally aromatic. Pollinates well in cool or warm temperatures. Thrives in all parts of the country. Mulch after the ground freezes in the fall. Produces numerous runners.



---
Haskap Berry: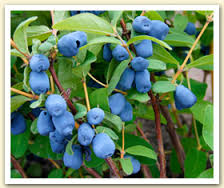 The Haskap berry is dark blue in colour, naturally delicious and very good for you. Recent research shows that Haskap has nearly three times the number of antioxidants than a wild blueberry, making it an important part of a healthy and balanced diet. A freshly picked Haskap berry (Lonicera caerulea) produces a full sensory explosion in the mouth. It is tart yet sweet, heady with a robust, complex in mouth sensation and a wonderful finish.


---
Goji Berry: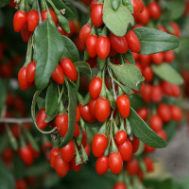 The 'Goji' berry is known as a Tibetan berry because it was traditionally used in the Indo Tibetan Mongolian culture for centuries. Known as the anti-aging fruit, goji berries are an excellent source of antioxidants, vitamins A and C, amino acids, potassium, iron, zinc, and more.These 100% natural dried berries may help enhance the immune system, protect your eyesight and improve liver function.


---
---
Grapes

Seeded & Seedless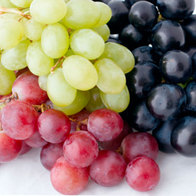 Glenora: (Seedless)
A mouthwatering medium-size grape with full-bodied flavor and rich aroma. Fine for wine and superb for snacking. Blue-black fruit makes a luscious jelly. Produces 25-35 clusters of fruit per vine. Medium to large, loose, heavy, well-filled clusters. Sweet, spicy, fine textured, highly flavored fruit with a thin, smooth skin. Fruit keeps well on the vine. Mildew resistant. Protect in exposed sites in Zone 4. Very vigorous vines with medium productivity. American grape. Hardy to -10 degrees F. Train on arbor or trellis. Developed in the North. Best for northern climates for seedless grapes. Tends to produce some type of seed if grown in climates above zone 6.

Suffolk Red: (Seedless)
Introduced from the Geneva Station in 1972. American; Seedless. Medium size, long, loose clusters. Round, firm, meaty and seedless with a pure non-foxy flavor. Excellent quality. Color varies from bright red to grayish pink. Needs direct sun to develop maximum red color. Needs constant moisture and fertility to keep the vine growing well, then it can be very vigorous. A good mulch will often do the trick. Moderately susceptible to mildews but almost disease free. Ripens during September, about 14 to 20 days before Concord. Zone 6-8

Lakemont: (Seedless)
Introduced from the Geneva Station in 1972. American; Seedless. Very large tight cluster of crisp, sweet and juicy yellowish green berries. Excellent flavor and quality. Excellent for table grapes and raisins. Vigorous and productive vines. May tend to over bear. Ripens in late August to early September, about 10 to 20 days before Concord. Hardy to approximately -10 degrees F. Zone 5-8

Niagra: (Some Seeds)
'Niagara' is an excellent white variety producing generous clusters of flavorful fruit, plus they are known for their pleasant aroma. The 'Niagara' Grape has a very sweet taste that makes it ideal for table use, jams/jellies, juice, wines, and champagnes. 'Niagara' ripens mid season and it ranks just below Concord in cold hardiness and ripens somewhat earlier.
---
---
Currants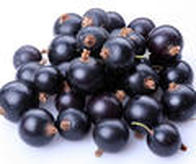 Black Currant:
Developed in Ottawa, Ontario and introduced in 1950. Medium clusters of somewhat soft black berries. Very prominent, sweet, and unique flavor. Good for jams, jellies, juice, and wine. Also excellent when dried. Resistant to White Pine Blister Rust. Black currants are a very high source of vitamin C. Excellent bird forage or windbreak plants. Very cold hardy. Zone 3-8

Red Currant:
Red currant berries are pearl sized, candy apple red and somewhat translucent. Like their their black counterparts, Red currant berries have a taut thin glossy skin that encases a soft pulpy flesh which contains small edible seeds. When the berries' skin is pierced the fruit explodes with bright fruity aromatics and a tart piquant flavor.

---
---