Annuals

---

---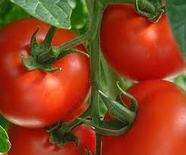 Medium to Large Varieties:
Ace: 75 days. Fruit size 8 to 12 oz. Large, deep red fruit on determinate vines. Very fine flavor.
Beefmaster: 80 days. Strong vines. Large quantities of solid meaty fruit up to 2lb. in size.
Better Boy: 70 days. Plump, juicy and flavorful 5-8 oz. fruit.
Celebrity: 70 days. Highly productive under any growing condition. Flavorful, disease resistant.
Champion: 62-65 days. Very disease resistant. High yields of meaty, sweet 6-7 oz. fruit.
Early Girl: 57 days. Yields a crop of 4-6 oz. fruits all summer.
Lemon Boy: 72 days. Lemon color inside and out. 3 1/2" diameter, 7 oz. Excellent flavor and a heavy producer.
Roma: 78 days. Great for cooking, canning and paste. Pear shaped fruit.
Super Fantastic: 70 days. Heavy yields of solid, meaty, smooth fruit. Very disease resistant.
Cherry Varieties:
Large Red Cherry: 72 days. Excellent salad tomato. 1-2" diameter.
Red Grape: 78 days. Sweet wonderful flavor. Glossy 1 oz. fruits grow on grape like clusters.
Sun Gold: 57 days. Bite sized golden fruit with juicy sweet flesh. Early and a heavy producer.
Supersweet 100: 65 days. Heavy producer of 1 oz. fruit. Needs staking. Extra high in vitamin C.
Yellow Pear: 78 days. Vigorous vines produce high yields of 2" yellow pear shaped fruit.

---
---
Heirloom Tomatoes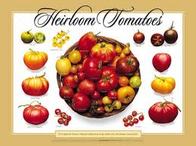 Medium to large:
Arkansas Traveler: 90 days. Heirloom from stock seed discovered in the Ozark Mountains of Arkansas and Missouri. Excellent creamy, mild flavored 6 oz. fruit.
Black Krim: 69 days. Dark, deep red large 5-7 oz fruit. Not the prettiest but very sweet and tasty.
Brandywine: 90-100 days. An Amish heirloom that dates back to 1885. Good yields of 1/2-1 lb. firm, clear skinned, light rosy pink fruit.
Cherokee Purple: 80-90 days. Reliable producer of 8-12 oz. fruit. Tolerant to mild drought as well as common diseases.
German Strawberry: 80 days. German heirloom is a perfect sandwich tomato. Fruits resemble strawberries only much larger, averaging 10 oz. Solid meat has few seeds and little juice but big flavor.
Jetsetter: 64 days. Real tomato flavor in large 8 oz. fruit that is smooth, juicy, flattened globes with a high yield and good disease resistance.
Manitoba: 58 days. Extremely early, suited for extreme northern areas. Red, slightly flattened, good flavored 6 oz. fruit. Easily grown in a small area.
Mr. Stripey: 80 days. Red and yellow striped heirloom. 9 oz. to 1 lb. Mild flavor and low acid.
Small and Cherry:
Oregon Spring: 60 days. Meaty fruits, 3-5 oz. Nearly seedless and perfect for ketchup and sauces.
Red Pear: 70 days. One of the rarest heirlooms. Yields plenty of small pear shaped fruit.
Red Siberian: 57-60 days. Egg shaped, 2-3" fruit. Dwarf with a spreading habit.
San Marzano: 80 days. Long oval, 1-4" fruit. Holds well on the vine and in storage. Perfect for canning.
Tumbling Tom: 70 days. This magnificent plant cascades 20" or more. Ideal for hanging baskets and containers. Juicy, 1-2" fruit, perfect size for snacking and salads. True ornamental with sweet flavor.

---
---